Who could ever have imagined the worldwide impact of a single virus? Although the Corona Virus pandemic shuttered our economy, it did not shut down our artistic creativity. In fact, as life seemed to slow down, creative energy and time actually seemed to increase. My latest series of collage paintings were my way of connecting to nature's beauty during a time of primary confinement indoors.
I have enjoyed working on my newest contemporary artwork, initially inspired by a commission opportunity. These collages, inspired by my love of the colors of the gulf and ocean waters, were created using a joyful mix of my favorite blue liquid acrylics freely painted onto sheets of glassine. The painted glassine was then adhered to a canvas with intentional, but spontaneous folds to create texture. The applications of the various blue colored sheets reminded me of the various colorations of ocean waters.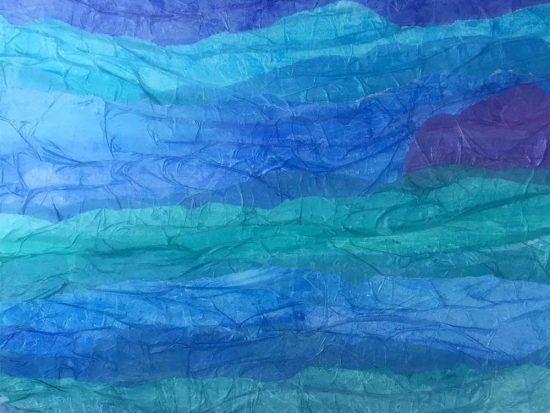 The final touch was pearlized white or iridescent gold used with dry brushwork glazing along the textured folds with my thoughts centered on the radiant light that so often glistens upon the ocean waters.
I just love being immersed in water! (I often say that I was a mermaid in a previous life!) This series of collages was an immersion in the colors of water and the radiance of reflected light and the final paintings emerged from just getting myself be in the moment.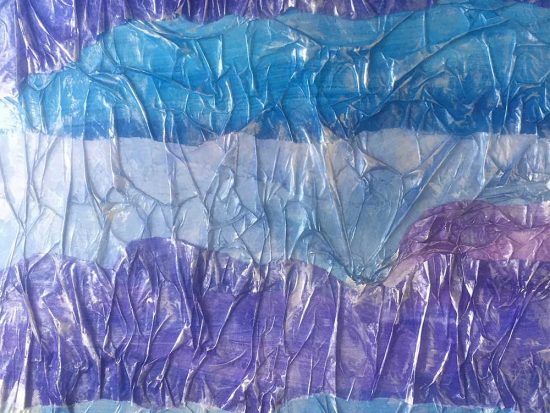 We are still painting at Inspirations and the gallery is open by appointment. Please call Paula at 239-272-7110 to arrange a private visit.
Paula Brody
Textured Mixed Media and Collage Artist
Inspirations Artist & Design Gallery